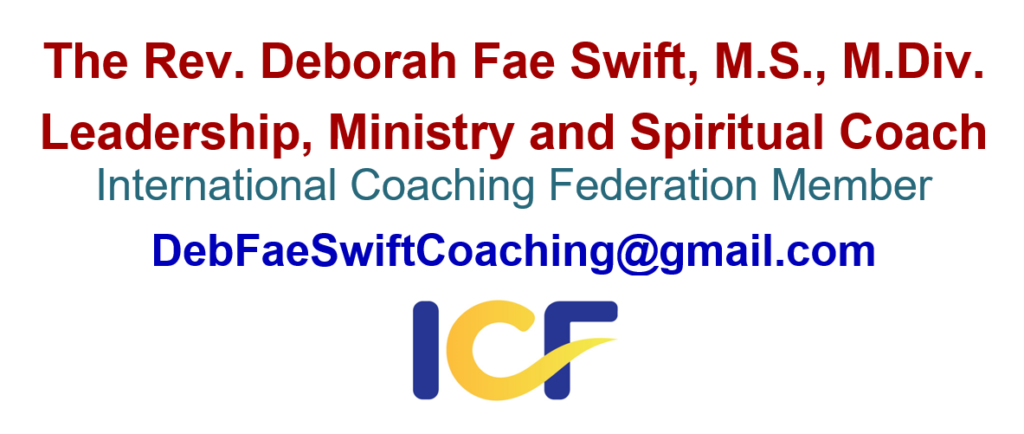 We hear a lot about coaching today. It means different things to different people. Go online and search for Life Coach, Leadership Coach, Executive Coach or Spiritual Coach and you will find to a wide variety of approaches and definitions.
Coaching, as I practice it as a member of the International Coaching Federation (ICF), is all about relationship – with yourself in terms of your dreams, goals and challenges; with your coach as you develop mutuality and trust; and with the Spirit whose presence infuses the whole process.
I think of coaching as Shadow Shepherding – walking alongside you for a time to help you crystalize your thoughts, visions and plans – to explore options. It's my job as the coach to help you uncover the path ahead and hold the space where we can process and expand your possibilities so that by the end of every session you will have an action plan for your next steps.
Coaching is not mentoring or consulting. It is not training or counseling. It's not spiritual direction because in each of those, the expertise is vested in the "other." The mentor, consultant, counselor or spiritual director is considered the "trained expert." In coaching, you are the expert about yourself and through deep listening, powerful questions, helping to recognize metaphors and patterns, you will be able to set goals while moving yourself forward in the areas you most wish to grow. As your coach, I accompany you on this exciting and transformative journey. It is a very dynamic and empowering way to address life's challenges, and as we explore together the ideas that emerge from you, the Spirit engages us as a powerful tool for transformation.
Central to that transformation is the promise of confidentiality that is part of the ICF Code of Ethics. You control the process and the sharing. Unless compelled by law, or given permission by you, I will never divulge what we discuss – though I may share the content (without your identity) with my supervisor as I continue my training. You, of course, are free to share (or not) anything that we talk about.
I am happy to offer you a pro bono session to see if coaching feels like a good fit for you at this time on your journey. If it does, I will provide you with a Coaching Covenant / Agreement that includes my fee structure – though I am always willing to barter other things of value as payment. If not, we will have both had a memorable encounter. Coaching is an approach that lends itself well to family, friends, parishioners, and other ongoing relationships just as effectively as it does to people I have never met before.
I can be reached by email at DebFaeSwiftCoaching@gmail.com or by leaving a message at
585-734-2023.